Welcome to the Memorial Health Gastrointestinal Procedures Center. We perform a variety of procedures to help diagnose and treat diseases of the gastrointestinal tract. These procedures include colonoscopy, esophagogastroduodenoscopy, pH monitoring, liver biopsy, paracentesis, and endoscopic ultrasound.
Why Choose Us?
We understand that having a medical procedure can be unsettling. Our compassionate team will be with you every step of the way. We will answer your questions, provide educational materials, keep your loved ones informed, and treat you with dignity and respect. At Memorial Health University Medical Center, we practice patient and family centered care.
Strong Patient Outcomes
We follow the best practices in medical care to ensure the best outcomes for our patients. Then we proudly share those outcomes so that our patients can make informed decisions about their care.
View Our Outcomes
Leadership
Our Memorial Health Gastrointestinal Procedures Center is led by experienced physicians who set high standards, provide the latest medical procedures, and follow your progress to ensure long-term success.
While You Are Here
When you arrive at Memorial Health University Medical Center (MHUMC) for your procedure, you can park for free in one of our on-site parking decks or designated patient spaces.
You will prepare for your procedure in our pre-surgery area. Your procedure will be performed in a leading-edge gastrointestinal procedures surgical suite at MHUMC. After your procedure, you will rest and recover in our post-anesthesia care unit.
Your care and comfort are important to us. If you experience any concerns or pain, please tell your nurse immediately so that we can help.
A responsible adult must wait for you on-site during your procedure. While waiting, guests are invited to visit our coffee shop, café, gourmet sandwich shop, gift shop, ATM, or vending machine area.
Please note that smoking is not permitted on any MHUMC property, inside or outside.
Recognition
---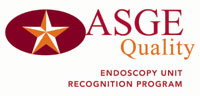 We earned recognition from the American Society for Gastrointestinal Endoscopy. To earn this recognition, we had to meet the program's rigorous criteria, which examined our quality, infection control, and the skill of our team, among other things.