Orthopedic specialists in Savannah, GA
The orthopedic doctors at Memorial Health in Savannah, Georgia, specialize in treating diseases and disorders of the extremities, knees, hips, neck, back and spine. We are dedicated to delivering the best possible outcomes for every patient. As part of that dedication, we ensure that we deliver high-quality care through our use of advanced technology, pre-surgical education, orthopedic care teams and orthopedic rehabilitation.
For more information about orthopedic care at Memorial Health, please call (912) 350-9355.
Our orthopedic surgery program
Our surgical suites are equipped with advanced orthopedic surgical technology, which allows our orthopedic surgeons to provide minimally invasive treatments for joint problems, spinal injuries, conditions affecting the extremities and sports injuries. Additionally, many of our nurses have supplemental certifications, meaning they are educated and trained beyond standard nursing care. This allows them to provide services that result in a faster recovery for you.
Bone, joint and muscle conditions we treat
Our orthopedic specialists treat a wide range of conditions, including:
Achilles tendon injuries
Arthritis, such as osteoarthritis and rheumatoid arthritis
Biceps tendon rupture
Bone cancers
Bone diseases
Bone spurs
Broken bones
Bunions
Bursitis
Carpal tunnel
Chondrocalcinosis (gout)
Chondromalacia patellae (runner's knee)
Diabetic foot ulcers
Dislocated joints
Fibromyalgia
Ganglion cysts
Hammer toe
Hand deformities
Hip pointer (hip bone bruise)
Hip disorders and diseases
Joint problems
Knee injuries, disorders and diseases
Lateral epicondylitis (tennis elbow)
Ligament injuries, such as anterior cruciate ligament (ACL) tears
Meniscus tears
Movement disorders, such as ataxia, chorea, dyskinesia and tardive dyskinesia (TD)
Neuromas
Neuromuscular disorders, such as muscular dystrophy, multiple sclerosis (MS) and spasticity
Orthopedic trauma injuries
Osteomyelitis (bone infection)
Osteoporosis (bone loss)
Plantar fasciitis (heel pain)
Rotator cuff injuries
Spinal disorders, such as scoliosis and stenosis
Sprains, strains and fractures
Tendinitis
Stenosing tenosynovitis (trigger finger or trigger thumb)
Hand and upper extremity care
The hand is a very complex structure with bones, nerves and muscles working together in a small space. Our hands are vital to performing many activities of our daily lives, so when an injury occurs, it can be frustrating to experience loss of function in the hands. We offer both surgical and non-surgical treatments for hand injuries and other extremity problems.
Due to the intricate anatomy of the arms and hands, surgery on the upper extremities is performed very delicately and often uses microscopic techniques. The hand specialists at our hospital are highly skilled in orthopedic surgery and plastic surgery. Our certified hand therapists partner with your surgeon to ensure proper postoperative recovery.
Our doctors offer specialized services for patients who have undergone an amputation through targeted muscle reinnervation. This surgical procedure allows us to reassign certain nerves that once controlled your limb to instead help you control your prosthetic device.
Complete joint care
We provide care for all types of injuries and conditions affecting your joints. Our specialists care for patients with hip fractures and other joint problems that may require joint replacement surgery. Our surgeons perform joint replacement surgeries on the knees, hips and shoulders. Additionally, we provide non-surgical joint treatments and pre-surgical education opportunities, so you feel well-informed going into surgery.
A joint replacement is a surgical procedure that replaces a damaged joint with a new, synthetic joint typically made of metal, plastic or ceramic. Surgery can help eliminate pain, restore movement and increase your overall quality of life. Many patients' joint pain is so severe that they have limitations in their abilities to walk, work and perform simple daily activities. Joint replacement offers a solution to get your orthopedic health back on track and restore your movements and range of motion.
Recognition
---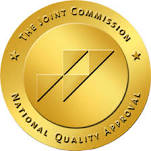 Memorial Health is proud to receive certification from The Joint Commission with their Gold Seal of Approval for hip and knee replacement procedures.
Hip replacement surgery
When damage occurs to the hip joint from wear and tear, an injury or orthopedic condition, a joint replacement procedure may be the best option to restore your joint health. The hip is considered a ball-and-socket joint and is the largest weight-bearing joint in our bodies. The top of the thigh bone forms a ball-shape that fits into a socket in the pelvis.
The joint is supported by ligaments and muscles and is cushioned with cartilage. The cartilage lining the joint can become damaged or worn down over time, resulting in hip pain. It can also become damaged due to infection, arthritis or loss of blood supply to part of the thigh bone. These reasons can result in the need for a total hip replacement.
Hip fracture treatment
A fall that leads to a broken hip can occur at any time and immediately impact your mobility. The hip fracture program at our hospital provides rapid care to patients coming to the emergency room (ER) with a hip fracture. The goal is to minimize potential complications and help patients return to an active lifestyle.
The team in our ER is trained to immediately assess a hip fracture and notify an orthopedic surgeon. Surgery is normally performed within 24 hours to repair the hip quickly and avoid severe pain.
Knee replacement surgery
A total knee replacement, also known as total knee arthroplasty, involves removing and replacing the knee joint. The knee forms the joint where the thigh bone and shin bone connect. The kneecap rests in the middle to protect the joint.
The knee joint can become damaged due to arthritis, Paget's disease, hemophilia, infection and avascular necrosis. These conditions can harm the knee joint and cause pain that limits daily activities.
Robot-assisted total knee replacement
We now offer a new, robot-assisted technology for total knee replacement surgeries. This system helps our surgeons optimize accuracy and efficiency when planning and performing total knee replacement procedures.
The robotic system uses X-rays taken prior to surgery to create a 3D virtual image of the patient's knee. The surgeon uses the system to develop a surgical plan that can be precisely performed with guidance from the system's robotic arm. While the surgeon performs the procedure, the system assists the surgeon in implant placement; it also allows the surgeon to adjust the plan in real time based on the patient's unique knee anatomy.
Shoulder replacement
A shoulder replacement is a procedure to remove and replace the shoulder joint with an artificial joint. A shoulder replacement may be needed if you begin to experience simple activities becoming increasingly difficult or if you have pain even when you are resting.
Patients with a severe rotator cuff tear, fracture or arthritis may receive relief from shoulder replacement surgery.
Physical therapy and rehab after joint replacement
Physical therapy for joint replacement patients will begin very soon after surgery and last multiple weeks depending on the type of procedure you had. Specially trained physical therapists assist patients following a hip and/or knee replacement with using a walker and increasing strength through exercise.
Occupational therapists work with you to help you learn how to perform daily activities while healing. These activities may include getting dressed, bathing and simple household tasks.
Limb Lengthening and Deformity Correction
Limb length discrepancies and limb deformities can cause a number of medical issues, as well as mobility issues that can have a significant impact on your quality of life. Today's surgical techniques and tools offer more options than ever. We perform limb lengthening and deformity correction procedures using advanced surgical technology. Our surgeons provide limb lengthening procedures and treatment for a broad range of underlying conditions, including:
Arthritis of the hip, knee or ankle
Bow legs (genu varum)
Bone deformity following a trauma
Bone loss or deformity due to infection
Developmental deformities
Limbs shortening due to injury or trauma
Knock knees (genu valgum)
Short stature
Unhealed fractures
Spine care
Our orthopedic surgeons and neurosurgeons take a multidisciplinary approach to spine care, collaborating to treat a wide range of conditions, from neck pain to bone spurs. We offer advanced treatments, including minimally invasive spine surgery. When spine surgery is necessary, we provide a preoperative class to help you prepare for your procedure and recovery.
Pre-surgical education classes
We provide pre-surgical education classes for total hip replacement, total knee replacement and spine surgery. These classes are free and help prepare you for your surgery and recovery.
In our classes, we will discuss the following topics related to your procedure:
Anatomy
Discharge needs
Equipment needs
Home safety and what to expect when you go home
Occupational and physical therapy
Pain management
Postoperative nursing care
Precautions and limitations after surgery
Preoperative exercises
We recommend taking the appropriate class at least two weeks prior to your surgery. You are also encouraged to bring family members and/or caregivers who will be involved in your care. You will be given a handbook that details your appointments, pre-surgical testing and at-home preparations you need to make.
Orthopedic care locations
Retrieving location data...