Stroke center in Savannah, Georgia
At Memorial Health, we provide expert care to patients arriving in our emergency room (ER) with stroke symptoms. A stroke can occur at any time, and knowing when and where to seek care is crucial.
We are proud to be recognized as a Certified Comprehensive Stroke Center by DNV-GL Healthcare for our high-quality stroke services.
If you or a loved one are experiencing stroke symptoms, call 911 immediately.
Recognition
---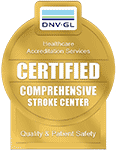 Memorial University Medical Center is accredited by DNV-GL Healthcare as a Certified Comprehensive Stroke Center. Additionally we earned the American Heart Association/American Stroke Association's (AHA) Get With The Guidelines® Stroke Gold Plus Quality Achievement Award.
How to recognize stroke warning signs
A stroke is a serious medical emergency. It is important to be able to recognize the signs and identify when to seek emergency care. Remember, if you believe a person is experiencing stroke symptoms, call 911 immediately.
When recognizing stroke symptoms, it is important to BE FAST:
Balance—Is the person experiencing a sudden loss of balance?
Eyes—Has the person lost vision in one or both eyes?
Face—Does the person's face look uneven? Has one side begun to droop?
Arms—If the person raises both arms above their head, does one arm hang down?
Speech—Is the person's speech slurred?
Time—If you recognize any of these symptoms, remember time is critical and call 911.
Understanding stroke
A stroke, also referred to as a cerebrovascular accident or brain attack, occurs when blood flow to a part of the brain is cut off. When the brain lacks a proper supply of oxygen, brain cells begin to die. The longer the brain is deprived of oxygen, the more damage occurs.
When brain cells die during a stroke, abilities that are controlled by the brain can become diminished, such as memory and muscle control. This is why fast emergency care is crucial.
Diagnosing a stroke
There are two main types of stroke: ischemic and hemorrhagic. During an initial evaluation and assessment, ER physicians determine what type of stroke is occurring and make treatment decisions accordingly. An ischemic stroke means blood flow to the brain has become blocked. A hemorrhagic stroke means a blood vessel in the brain is bleeding into or around the brain.
Patients admitted to the ER with stroke symptoms are evaluated by a physician. Often, certain types of testing and imaging are performed to gain a diagnosis, including:
Blood work
Chest X-ray
Computed tomography (CT) scan of the brain
Electrocardiogram (EKG)
Swallow studies
Our hospital works closely with local emergency medical services (EMS) to identify potential stroke symptoms and send patients directly to imaging services upon arrival.
Stroke treatment
Our ER physicians provide immediate assessment and evaluation and identify the appropriate medical intervention. Fast treatment is vital for preventing and reversing permanent brain damage, which can lead to disability.
Patients experiencing an ischemic stroke may receive a drug called tissue plasminogen activator (tPA) if their stroke symptoms onset within the previous 3 to 4.5 hours. This drug dissolves the blood clot that is causing the stroke and restores blood flow to the brain.
In other cases, a mechanical thrombectomy may be needed. This is an endovascular procedure performed within 24 hours of symptom onset. During the procedure, an interventional radiologist will remove a blood clot from an artery that is blocking blood flow to the brain.
For patients diagnosed with a hemorrhagic stroke, surgery may be necessary. Some patients may be directed to our intensive care unit (ICU) for close monitoring.
Our stroke team
Patients admitted to the hospital are treated in the dedicated stroke unit. This unit is staffed by nurses with extensive training in stroke care. Nurses educate patients about follow-up care, stroke prevention and lifestyle modifications prior to discharge.
The stroke team includes specialists from:
Case management
Emergency medicine
Interventional radiology
Laboratory testing
Neurosurgery
Radiology
Rehabilitation services
Stroke recovery program
Our hospital provides a dedicated program to aid in physical therapy and rehabilitation following stroke treatment. After emergency treatment, many patients may need physical, occupational and/or speech therapy. Patients have access to the following services through our stroke recovery program:
Barium swallow studies and X-ray imaging, as needed
Bowel and bladder therapy
Family conferences, involvement and counseling
Home assessments to evaluate the need for adaptive equipment and placement of ramps and railings
Home exercise program
Perceptual evaluation and training, memory improvement and problem solving
Psychological counseling to aid in understanding and adjusting to physical and emotional changes
Recreational therapy
Referral to our driving education and re-training program
Referral to vocational rehabilitation services
Strengthening and conditioning exercises in the pool
Swallowing disorder treatment
Therapies for improving strength, endurance, mobility, ambulation and activities of daily living
Therapy for speech and language difficulties
Stroke risk factors
Understanding potential risk factors for a stroke is important in preventing one from happening. If you identify with any of the following, talk to your doctor about what you can do to decrease your risk for stroke.
Atrial fibrillation (AFib) or an irregular heartbeat
Diabetes
Excessive alcohol use
Family history of stroke
High blood pressure
High cholesterol
Physical inactivity and obesity
Smoking
Stroke locations
Retrieving location data...
News