Outpatient adult & pediatric therapy in Savannah, GA
Proper rehabilitation care is key for many patients following an injury, medical diagnosis or surgery. In one of the largest and most comprehensive gym facilities available in the region, Memorial Health's Outpatient Adult & Pediatric Rehabilitation offers multidisciplinary services with advanced trained therapist that are tailored directly to the needs of each patient. Surgery, certain conditions and diseases can be very strenuous on your body, and our therapy services are here to help you regain your strength and ability to perform daily activities.
We are proud to offer one-on-one care for our patients. This allows our therapists to focus specifically on your needs and goals during your entire therapy session. Rather than splitting our time with multiple patients or handing your care off to other providers, our therapists focus specifically on your goals and develop a customized plan to help you achieve your best function and recovery in as short a time as possible.
Physical therapy and rehabilitation services
Our therapy professionals utilize the latest technologies and techniques to help speed recovery times. Our comprehensive care team is made up of physical therapists, occupational therapists, and speech therapists.
Our Outpatient Adult & Pediatric Rehabilitation program provides a full spectrum of services with advanced training and certification in many areas including Hand Therapy, Pelvic Floor Therapy, Vestibular Therapy, Neurological Therapy, Orthopedics, Amputee Therapy as well as the specialized needs of our Pediatrics patients. Our team's goal is to help patients return to a functioning and fulfilling life after an accident or illness.
To qualify for outpatient therapy services, a patient must receive a consultation from their physician. The physician must write them a prescription for rehab. During your first visit, we perform an initial evaluation to determine your specific needs and goals. Then, we create an individualized, uniquely customized rehab plan, which may involve a variety of therapies.
To contact Outpatient Adult & Pediatric Rehabilitation, please call us at (912) 350-7128. To contact Outpatient Adult and Pediatric Therapy Services - Pooler, please call (912) 273-1000.
Rehabilitation specialists
For patients needing multiple disciplines including occupational, physical and/or speech therapies, our team works together to create an individualized treatment plan for every patient to restore their functional skills, self-sufficiency and mobility.
Our pediatric rehabilitation services provide personalized care for children, so they can learn, grow and recover. Our dedicated pediatric specialists include experts in speech language therapy and physical therapy.
Outpatient adult rehabilitation services
Adults in Southeast Georgia benefit from having the following outpatient services close to home in their community. Our advanced trained certifications include:
Hand Therapy
Pelvic Floor Therapy
Functional Capacity Evaluations
Lymphedema
Driving Evaluations
Dry Needling
Mechanical Diagnosis and Treatment (MDT) for spine and extremity rehabilitation
Vestibular
Orthopedics
Sports Injury
LSVT BIG
LSVT LOUD
Physical therapy
Our physical therapists are key members of the outpatient rehabilitation treatment team. They work closely with every patient to create a well-defined treatment plan that includes special goals for regaining strength and independence.
Physical therapists specialize in helping patients with:
Balance and fall prevention
Amputee Rehabilitation
Functional and safety training
Gait evaluation and training
Joint mobilization
Dry Needling
Myofascial treatment
Lymphedema therapy
Neuromuscular Rehabilitation
Orthopedic and sports rehabilitation
Total Joint Rehabilitation
Pelvic Floor Rehabilitation
Pain management
Patient and family education
Stroke Recovery
Traumatic Brain Injury Recovery
Spinal cord rehabilitation
Trigger point therapy
Vestibular (inner ear) assessment and rehabilitation
Long COVID Rehabilitation
Occupational therapy
Our occupational therapists are committed to helping people improve and/or maintain the everyday skills they need to function at home, at work and in social settings. Occupational therapists who participate in our rehabilitation program work with patients and their families to define therapy goals and achieve maximum independence.
Occupational therapy may include:
Activities to increase joint range and strength of the upper extremities and reinforce desired movement
Adaptive equipment and orthotics, as needed
Cognitive and perceptual retraining
Coordinated programs to help improve posture, balance and functional skills
Detailed sensory evaluations and training
Driving evaluation
Self-care training, such as basic feeding, hygiene, dressing and safety awareness
Specialized hand rehabilitation
Custom Splinting
Patient and Family Education
Lymphedema Therapy
Time spent developing memory, motor planning and visual-spatial skills
Long COVID Rehabilitation
Speech therapy
Our speech and language therapists provide a variety of services to assist with speech and swallowing disorders following an accident or injury. Speech therapy services may include:
Care and treatment for patients who have had a laryngectomy (removal of the larynx).
Cognitive retraining for patients recovering from a stroke or traumatic brain injury. We help patients achieve independence with therapy that focuses on improving organization, memory, reasoning and judgment.
Swallowing disorder treatment and evaluation for patients with neurological and anatomical conditions, such as stroke, brain injury or oral/pharyngeal cancer.
Language therapy for adults who have experienced a comprehension disorder due to a stroke.
Voice therapy for patients with chronic hoarseness, vocal nodules, vocal polyps or other types of abnormal voice problems.
Patient and Family Education
Sports medicine rehabilitation
Our team sports physical therapists/ATCs are specialists in the treatment of sports related or orthopedic injuries of sports medicine experts includes certified athletic trainers, sports physical therapists and orthopedic specialists. The sports medicine program emphasizes education, wellness and accelerated rehabilitation designed to get athletes back into action as quickly and safely as possible.
The sports medicine program includes:
Sports injury assessment and evaluation
Sports injury prevention
Sports medicine education
Wellness promotion
Hand therapy
Following an injury to the hand, loss in function and dexterity can occur. Our certified hand therapists understand the challenges associated with hand dysfunction and are committed to helping patients regain maximal hand movement. Memorial Health's outpatient services provide one-on-one care from advanced trained and certified hand therapists. We work closely with you and your physician to ensure the highest level of function is obtained post injury.
Pelvic floor therapy
Our pelvic floor therapists offer comprehensive treatment for women and men with pelvic floor disfunction. This may include:
Bladder and/or bowel incontinence
Functional constipation
Pelvic Pain
Postpartum/pregnancy related pain
Pelvic organ prolapse
Abdominal adhesion following c-section
Urinary issues due to enlarged prostate/post-prostatectomy
Pain, discomfort
Pain during intercourse in women
Erectile dysfunction in men
Vestibular rehabilitation
We provide evaluation and treatment for patients experiencing vertigo and other balance problems due to vestibular (inner ear) conditions. Therapy helps repair the vestibular system and helps patients adapt to hearing dysfunction or loss.
We treat patients with:
Benign paroxysmal positional vertigo (BBPV)
Bilateral vestibular loss
Unilateral vestibular dysfunction or loss
Our therapists will customize a treatment program that helps decrease dizziness, improve balance, improve visual-vestibular interaction and increase activity levels.
Lymphedema therapy
Lymphedema occurs when there is an accumulation of protein-rich fluid within a tissue space in the body. The accumulation of fluids causes swelling and most often affects the arms and legs. Our outpatient rehabilitation team includes lymphedema specialists who treat both primary (congenital) and secondary (acquired) lymphedema.
Throughout many patients' cancer care treatment, the removal of lymph nodes is required. When lymph nodes are removed or damaged, a patient is at a higher risk of developing lymphedema. It may appear days, weeks or even years following cancer treatment.
Long Covid therapy
While most people will recover from COVID-19 within a few weeks, some people may experience a range of new or continued symptoms that can last for weeks or months. This may include physical and/or cognitive impairments and is referred to as "Long COVID."
Memorial Health's outpatient therapy services is now offering the area's only specialized program dedicated to the specific needs of Long COVID patients. With advanced training and a multidisciplinary approach, we are uniquely positioned to offer Long COVID patients a comprehensive approach to their recovery. Some of the common symptoms addressed by our team include:
Poor endurance
Muscle weakness
Balance deficits
Memory impairment
Trouble concentrating or "brain fog"
Shortness of breath
Difficulty swallowing
Voice issues that may be related to long term intubation
Return to work efforts
Difficulty with basic activities of daily living
Driving therapy
We offer the only on-the-road driving evaluation and training program in the region of Southeast Georgia. Our program, called Driving Visions, provides training to help patients acquire or regain their ability to drive following a disabling injury or illness.
Driving Visions provides physicians with the information they need to make decisions about their patient's driving status.
Amputee rehabilitation program
We provide individualized care to patients who have had an amputation. Patients in the amputee rehabilitation program may benefit from:
Therapies designed to improve strength, endurance, transfers, mobility, ambulation and daily living activities
Home exercise program
Pre-prosthetic training and additional prosthetic training, as needed
Referrals to our driving evaluation and retraining program
Referrals to vocational rehabilitation services for returning to the workforce
Support services from other amputees, if desired
Training in putting on and taking off personal protective equipment (PPE), such as limb protectors, shrinkers and limb socks
Techniques to control and manage phantom limb pain or post-surgical pain
Wound care education
Industrial rehabilitation services
Our industrial services program helps patients return to work after an injury and educates employers about a safe work environment. Patients who participate in industrial rehabilitation must have a medical diagnosis that limits their ability to work, such as a traumatic injury, burn, amputation, spinal cord injury, chronic low back pain, musculoskeletal dysfunction or other major neurological or orthopedic conditions.
Industrial therapy for patients may include:
Chronic pain management techniques
Education in body mechanics
Exercise activities to improve overall work tolerance
Injury prevention education
Simulation of work activities
Work hardening and conditioning to help patients return to pre-injury work levels
Functional Capacity Evaluations
Attending outpatient therapy
We have two convenient locations throughout Chatham County for your therapy services:
Memorial Health - Savannah

4700 Waters Ave, Building 100, Savannah, GA 31404
Hours of operation: Monday through Friday from 7:00 am to 6:00 pm
Free valet services are available along with parking in Parking Garage A

Memorial Health - Pooler

101 West Mulberry Boulevard, Suite 210, Pooler, GA 31322
Hours of operation: Monday and Wednesday from 8:00 am to 6:00 pm, Tuesday and Thursday from 7:00 am to 6:00 pm and Friday from 8:00 am to 4:00 pm
Tour our outpatient therapy area
This is one of our cardio areas that includes treadmills, stationary bikes, upper body ergometers and stair masters. This equipment is beneficial for patients with poor endurance, long COVID and decreased cardiovascular capacity.
These are our weight and cable machines that our therapists use to work on upper and lower body strengthening and endurance.
This is one of our cardio areas that includes stationary bikes. This equipment is beneficial for patients with poor endurance, long COVID and decreased cardiovascular capacity.
These are some of our cardio equipment. In the background is our PT treatment tables where we perform mat exercises and manual therapy.
Free weights and weight machines are utilized for all levels - athletes included.
This is one of our cardio areas that includes a rower and spin bike.
Cable machines and barbells in the background. Suitable for young athletes all the way to elderly (all ages).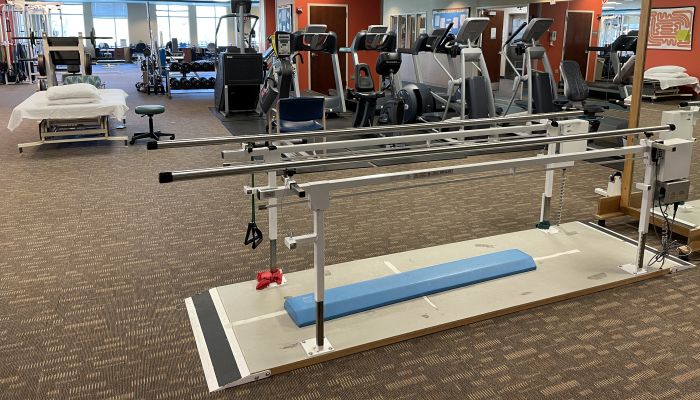 Parallel bars are used for gait training and balance. These are particularly helpful with amputees, stroke patients, brain injury patients or orthopedic injuries where the patients require upper body support for walking.
This is the Biometrics technology that is utilized primarily in hand therapy. It provides assessments and objective data. You can also utilize fun programs while you exercise to help keep the patients engaged.
Physical therapy and rehabilitation locations
Retrieving location data...