---
For the safety of our patients, colleagues and community, only one dedicated visitor or support person will be allowed for the following exceptions:
COVID-19 and Pregnancy An Update for our Patients
We would like to take this opportunity to update you about your maternity care during the coronavirus (COVID-19) pandemic, and assure you that our dedicated team of expert nurses, physicians and midwives are committed to providing the safest and most effective care.
---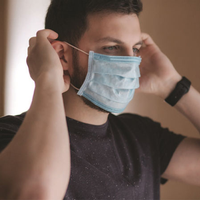 User's guide to facemasks - do's and don'ts
August 04, 2020
To get the most out of your mask, make sure you wear it correctly and at the right time. These may seem simple - but let's review.
---
Parenting and coronavirus: Caring for children during COVID-19
May 28, 2020
Should your child go to their doctor's appointment? Here's what you need to know about caring for your child during the coronavirus pandemic, including when to get them checked for COVID-19 and more.