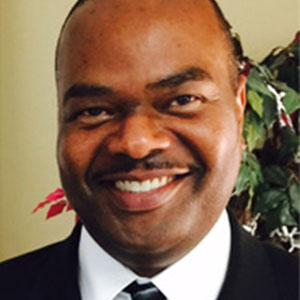 Bruce Dixon
Bruce Dixon of Vidalia, Georgia, is a former Marine who now works in security at a nuclear power plant. He's not the type of person to be bothered by a little pain. But at age 45, when pain became a part of his daily life, he knew he'd had enough.
Dixon was living with a constant sharp pain in his left shoulder that radiated up to his neck and all the way down to his left thumb. His doctor tried injecting medication into his shoulder to ease the pain, but it did not help. The constant discomfort was taking a toll on his physical and emotional health.
"When something hurts non-stop every single day, you don't want to do anything. You don't want to go anyplace or see anybody. I would come home from work and just sit there in pain," said Dixon.
An MRI scan revealed that three of the vertebrae in Dixon's neck were pinching a nerve. He was referred to orthopaedic spine surgeon Raphael Roybal at Memorial Health University Medical Center in Savannah. Roybal explained that surgery was the best option to correct the problem and relieve the pain.
"Dr. Roybal went over everything with my wife and I. He told us exactly what would happen during surgery. He was awesome -- a really great person," said Dixon.
In April 2017, Dixon underwent an anterior cervical fusion procedure. Roybal accessed Dixon's spine by making a small incision on the front of his neck and gently moving his esophagus, trachea, and other tissues to the side. It may seem unusual to reach the spine through an opening at the front of the neck rather than the back, but this "anterior approach" has some benefits. It allows the surgeon to get a good look at both the bony vertebrae of the spine and the spongy cervical disks in between. It also results in faster healing and less pain because only a thin muscle at the front of the neck has to heal.
Roybal relieved the pressure on the pinched nerve and fused two vertebrae together to hold them in place. After surgery, Dixon spent one night at Memorial Health University Medical Center.
"I felt immediate relief. The day after surgery, there was no more pain, tingling, or numbness in my neck, shoulder, or thumb," said Dixon. He was especially impressed by the exceptional care he received in the hospital.
"The morning after my surgery, one of my nurses stopped to check on me one last time before I went home. She gave me a hug and asked if she could say a prayer with me. I said, 'yes ma'am!'" said Dixon.
When he returned home, Dixon spent seven weeks healing, resting, and getting physical therapy. By early summer, he was able to return to work and doing the things he loves, like going camping with this family. He calls the surgery a blessing and is embracing his new pain-free life.