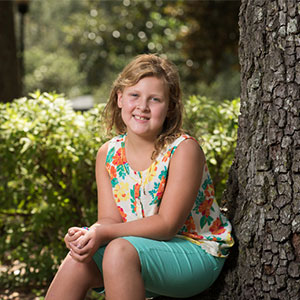 Iliana Schraeder
Heather Schraeder has a strong mother's intuition and an even stronger faith. She felt them both while sitting at a doctor's appointment with her 5-year-old daughter in September 2014. She says she felt like the Lord was letting her know that she was about to begin a difficult journey.
Heather and her Army husband, Jim, have three boys – Conner, Brock, and Ian. The baby of the Schraeder family is Iliana. When she was born, they nicknamed her "L'Ili," short for "Little Iliana."
In September 2014, L'Ili had not been feeling well and seemed to be fighting a typical childhood bug. While Heather was helping her daughter get dressed one morning, the little girl fainted. At first, doctors thought she might be dehydrated. But a blood test showed that L'Ili's hemoglobin levels (the protein in red blood cells that carry oxygen through the body) were low. The Schraeders were referred to John Whittle, M.D., a pediatric hematologist/oncologist at the Memorial Health Dwaine & Cynthia Willett Children's Hospital of Savannah, to find out why.
"On September 19, when we were dealing with that first hemoglobin issue, I felt like God was impressing upon my heart that we were in for a bumpy ride," said Heather.
For the next two months, Whittle and the Schraeders monitored L'Ili's hemoglobin levels closely. When her hemoglobin counts dropped even lower, she received a blood transfusion. Following the transfusion, they dropped yet again. After two months of monitoring her hemoglobin, Whittle tested a sample of L'Ili's bone marrow. The test showed that the little girl had a form of blood cancer called acute lymphocytic or lymphoblastic leukemia (ALL).
"It caught us off guard because there were no outward symptoms other than one fainting episode and the low hemoglobin levels," said Heather.
L'Ili was immediately admitted to the hospital. Treatment for ALL involves an intense first round of chemotherapy to attack the cancer cells in the bone marrow. For L'Ili, that meant spending a week in the hospital receiving treatment. This is followed by a period of slowly intensifying chemotherapy to kill the remaining cancer cells in the body. The third phase is a long-term maintenance period that involves another very intense round of chemotherapy followed by regular intervals of chemo for two to three years.
In the month following her first intensive chemotherapy, L'Ili was given a regimen of oral chemotherapy drugs, antibiotics, and steroids.
"It was very hard because she was only 6 years old and she had to take a lot of pills. We would have to cut them into such small pieces that sometimes it felt like we were giving her 20 pills at a time," said Heather.
Over the next two-and-a-half years, the Schraeders lives consisted of hospital visits, intravenous chemotherapy, oral chemotherapy, spinal taps, blood tests, steroids, and antibiotics.
"We had a routine for procedures and blood draws. L'Ili would sit on my lap, press her feet against my feet, and think about Tinkerbell," said Heather.
Heather found support in the team at the Willett Children's Hospital. The child life therapists helped coax the shy L'Ili out of her shell and fed her love of arts of crafts. The clinical team helped Heather and Jim keep track of everything by providing medication maps, appointment reminders, and educational materials. Heather also relied on daily Bible devotions and lots of prayer.
On February 2, 2017, L'Ili completed her leukemia treatment. She is happily resuming life as a healthy 8-year-old. Her days are no longer filled with doctor visits and pills. Instead, she can focus on the things she enjoys -- making crafts, riding horses, dancing, and watching YouTube videos.