Nichole Deal
Weight-Loss Surgery Gives Statesboro Mom a Bright Future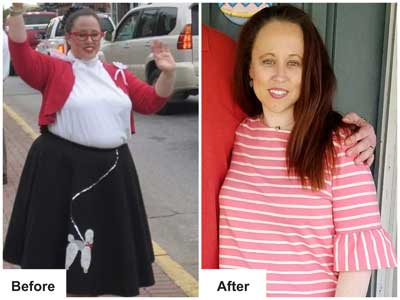 Nichole Deal had it all -- a loving family, a rewarding career, roles in local theater productions. But there was one thing missing: a future. She would, her doctor warned, miss it if she didn't lose weight.
At 256 pounds, the Statesboro native had a body mass index, or BMI, that put her in the morbidly obese range. The weight was already taking a toll on her body. She was on medication for high blood pressure and had been diagnosed with prediabetes.
"My ob-gyn had been telling me for years to lose weight," she recalls. At an appointment in 2014, he was blunt. "He told me, 'Do you want to see your kids and grandkids grow up? You're taking 10 to 20 years off your life.'"
This time, it clicked for Nichole. She acknowledged her activities were severely limited by the excess weight.
"I couldn't get on the floor and play with my son, who was 3 at the time," she says. "I didn't enjoy shopping. I couldn't just go into a store and buy clothes. It was hard to exercise because my knees hurt all the time."
Even though she loved performing with a community theater group, she admits her self-confidence flagged. "I worried about being on a small stage and not having room to move around because of my size," she says.
And then there were the costumes. "I played a cook in 'Annie' and the dress was size 26. I was embarrassed to be the biggest one on stage."
At her doctor's suggestion, she attended an information session presented by Memorial Health to learn about weight-loss surgery. Within a few months, her surgery was scheduled with Dr. Oliver Whipple for December 2014.
As she prepared for the big day, Nichole made adjustments to various aspects of her life.
"I had to change my mindset," she notes. "I focused on being able to run and play with my son, Wyman. I imagined going into a store and buying clothes that fit."
Afterward, Nichole saw results right away. Her doctor took her off blood pressure medicine and her risk for diabetes disappeared. "My cholesterol levels were so good that my bad cholesterol didn't even register on a blood test," she says.
Support from family and friends played a major role in her success.
"My coworkers were with me throughout the process," she says. As soon as she decided to pursue surgery, her colleagues at the Bulloch County Board of Education, where she works as assistant to the director of special education, made changes, too.
"They started making better food choices, and one of them walked with me every day," she says.
The journey has come with some challenges, Nichole confesses. She misses sweet tea and Cokes, but a photo of the "old" Nichole on her refrigerator keeps her motivated.
"My thought has always been, you have to make the decision to have surgery for yourself," she says. "You have to have the determination to follow the rules and do what you're supposed to do. It you don't, the weight will come back.
"I didn't want to go through that huge checklist and major surgery and not take this seriously," she concludes.
Four years later, Nichole, now 42, is still adjusting to her smaller size. Months after the surgery, she continued wearing her old clothes, adding a belt when necessary. She struggled to part with her "fat" clothes.
"I was telling myself I had clothes to wear 'just in case,'" she admits. "They were a security blanket in my closet and I didn't want to hang onto them." She gave them all away.
"I still have issues wearing clothes that are more fitted," she says. "I'm not used to wearing things that are tight - it scares me a little. I've always tried to cover up my hips, thighs and stomach."
She's lost nearly 100 pounds and plans to eventually lose about 20 more. She joined a gym this year and discovered she loves Zumba, hip-hop, barre and cardio kickboxing.
A former dancer, she performed in a ballet two years ago and will be dancing in a local production of "Cinderella" this fall. Last year, she landed the role of Truvy (played by Dolly Parton in the movie version) in a stage presentation of "Steel Magnolias."
Nichole has learned a lot about herself since she began her weight-loss journey.
"I make decisions every day: I'm not going to drink soda, I'm going to the gym," she says.
"For me, surgery was the final fix."