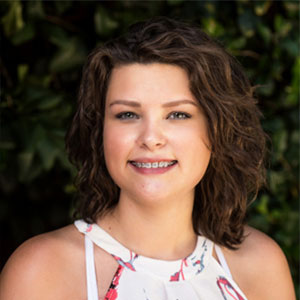 Sommer Wright
Sommer Wright of Douglas, Georgia, does not play by the rules. Her parents and doctors will vouch for the fact that she has her own way of doing things. At just 17 years old, Sommer is already an aspiring equestrian veterinarian, a community volunteer, and a cancer survivor.
Sommer loves horses. In the spring of 2014, she was taking barrel racing lessons with the South Georgia Saddle Club. Around the same time, she experienced aching pains in her chest. At first, she thought it was sore muscles from her riding lessons. But then she began to have trouble breathing, especially when she would lie down at night. She went to the doctor for an X-ray, but it was clear. The pain and shortness of breath remained a mystery.
In March, Sommer traveled to Florida with her high school band. While there, she experienced high fevers at night, and was winded and exhausted during the day. Her parents, Ali and Reggie, took her back to the doctor, who put her on an asthma medication. Still, her symptoms did not improve. One night in early April, Sommer was choking and gasping for breath. Her parents took her to the Coffee Regional Medical Center emergency room. Doctors did a CT scan and checked Sommer's blood. When the results came back, they told Reggie and Ali that their daughter needed to go to Memorial Health University Medical Center in Savannah right away. Sommer had a fast-growing tumor in the front of her chest that was pressing on her esophagus and heart. They believed it was a type of cancer called T-cell lymphoma that causes cells in the lymphatic system to grow out of control.
When the Wrights arrived in Savannah, doctors confirmed that the mass in Sommer's chest was growing rapidly. She was immediately admitted to the intensive care unit at the Memorial Health Dwaine & Cynthia Willett Children's Hospital of Savannah. Her doctors needed to perform a biopsy to collect a sample of the tumor and determine how to treat it. But first, they had to shrink the tumor enough to allow Sommer to breathe comfortably and lie down flat.
"I don't think I slept for three days. I just sat next to her bed and prayed," said Ali. She asked everybody she knew to pray for Sommer too. Within four days, the tumor began to shrink and Sommer was able to breathe again. Before the biopsy, doctors told the Wrights that they feared the cancer was in a very advanced stage. But remember, Sommer does not play by the rules. She had stage 3 lymphoma, yet the disease had not spread to her bone marrow or spine. That meant it would likely respond very well to chemotherapy.
After 10 days in the intensive care unit, Sommer was ready to begin chemotherapy one day a week. But once again, she proved that she would do things differently. She had an allergic reaction to the chemotherapy drug. Her hematologist/oncologist, Andrew Pendleton, M.D., found that Sommer's liver did not produce an enzyme needed to expel the chemotherapy drug from her body. Sommer would receive a different drug that required her to get shots three times a week rather than an infusion once a week. That meant her family was making the three-hour drive from Douglas to Savannah three times more often. Over the next year, Sommer had gallbladder surgery and two sinus surgeries, all related to her body's inability to process the chemotherapy normally.
Throughout all of it, Ali and Reggie never once questioned their decision to receive treatment at Memorial Health. "The doctors and nurses have become like our family. I am so thankful we went there. We knew they would take care of us and get us through this," said Ali.
In August 2014, the Wright family was handed yet another challenge. Ali was in Savannah with Sommer and Reggie was back in Douglas at work. Ali received an urgent phone call that her husband had suffered a heart attack and was flown to Albany, Georgia, which was six hours away.
"I don't know how I got through that," said Ali. "I realized that I have no control over any of this, so I put it in God's hands." Her motto became, "don't worry about it, just pray about it." And her faith carried her through. Reggie survived and recovered, and Sommer completed the most intensive phase of her chemotherapy.
In early 2015, Sommer began a long-term maintenance phase with a chemotherapy drug that she could take at home. Even the maintenance drug left her extremely weak and sick. By March 2016, cancer treatment had depleted the lymphocytes in Sommer's body. She spent two weeks in the hospital battling pneumonia, a kidney infection, and a staph infection. But she was determined to get through it and beat cancer. It was at that point that Pendleton told Sommer she could safely stop taking the drug that was wreaking havoc in her body.
"We were overjoyed to be done with chemo. Sommer and I both cried because we were so happy," said Ali.
Not long after her treatment ended, Sommer celebrated her 17th birthday. She earned her driver's license, got her first car, and began her senior year of high school with her friends. She also does volunteer work for the Childhood Cancer Awareness Group of Coffee County, a group that helped the Wright family tremendously throughout their ordeal.
Sommer's cancer journey was full of unexpected twists and turns, but the team at the Willett Children's Hospital played by her rules and adjusted her treatments as necessary. Now she's looking forward to finishing high school and achieving her dreams -- on her own terms, of course.