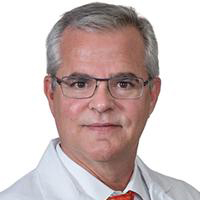 September is National Prostate Cancer Awareness Month. It's important for men, especially those with key risk factors to get proper screening so any cancers can be detected early. But prostate cancer is sometimes hard to detect and can go untreated presenting as a more advanced cancer in some patients.
"As with many cancers, prostate cancer is a disease that can stay localized to the prostate and could actually exist as a low-grade entity for many, many years before becoming something," says urologist Dr. Gilbert Gonzalez, Memorial Health Meadows Physicians – Urology Care. "That is a little bit more challenging or perhaps life-threatening largely due to the fact that patients have unknown risk factors."
"There have been a number of dietary, lifestyle and other risk factors that are associated with it, but for the most part, we don't point to simply one risk factor when we think about this disease, like we might, for some other cancers and if you're African-American your risks are higher," adds Dr. Gonzalez.
"1 in 8 men will get prostate cancer in their lifetimes. If you are African American, that number increases by 76%. We know that lifestyle factors, otherwise known as "social determinants of health," play a huge role in health risks, health equity, and outcomes."

- Prostate Cancer Foundation (pcf.org)
It has been an observation now for many decades that African American men are more likely to have advanced disease when they're diagnosed. "Knowing the facts will allow us to address some challenges in the system in terms of the delivery of care and how we are identifying those through early detection," notes Dr. Gonzalez.
"Armed with new data, we can begin to address some of the biological, clinical, societal and economic disparities that we see in regard to race and prostate cancer to help provide specialized treatment options and better outcomes for our patients," adds Dr. Gonzalez.
One thing is for certain, regular screenings can detect cancer at early stages which, in turn, may make it easier to treat.
Screening guidelines for prostate cancer:
While there are no standard or routine screening tests for prostate cancer, various types of prostate cancer screenings are currently being studied, including:
Digital rectal exam (DRE) – an internal physical examination of the prostate performed by inserting a lubricated glove finger into the rectum.
Prostate-specific antigen (PSA) test – a blood test measuring the level of PSA. A higher level may indicate prostate cancer, an infection or inflammation of the prostate or benign prostatic hyperplasia (BPH).
Prostate cancer gene 3 (PCA3) test – a test measuring the amount of PCA3 present in the urine; the higher the level, the more likely that prostate cancer is present.
TMPRSS2:ERG – a urine test that looks for an abnormal gene change in prostate cells that are found in 50 percent of all localized prostate cancers, but rarely when prostate cancer is not present.
The age at which men should discuss the need for cancer screening with their healthcare providers is based on an individual's risk level for developing prostate cancer:
Average risk – men with no prostate cancer in their immediate family. Discuss screening at age 50.
High risk – African Americans or those with a first-degree relative (father, brother or son) who has been diagnosed with prostate cancer before age 65. Discuss screening at age 45.
Very high risk – those with more than one first-degree relative diagnosed with prostate cancer before age 65. Discuss screening at age 40.
Be sure to consult your physician on the best screening schedule for you, as he or she may recommend earlier or more frequent screening based on you or family's health history.
To schedule an appointment or talk to a doctor at Memorial Health Meadows Physicians - Urology Care, call (912) 537-9481. More information.
For a complete patient guide from the Prostate Cancer Foundation click here and for a brochure with additional facts for African American men and their families click here.