Birthing center in Savannah, Georgia
Whether this is your first baby or a new addition to your growing family, we are here to help make your childbirth experience memorable. At Memorial Health, our labor and delivery services are focused on providing patient- and family-centered care.
Our doctors and nurses work with you after delivery to help you care for and bond with your new baby. We promote skin-to-skin contact to establish a strong connection between you and your baby immediately following birth.
To learn more about the childbirth experience at our hospital, please contact our Consult-A-Nurse® team at (912) 350-9355.
Recognition
---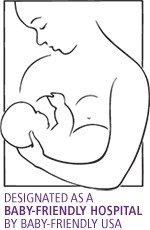 Our hospital earned the Baby-Friendly designation from Baby-Friendly USA, Inc. This initiative, sponsored by the World Health Organization and UNICEF, recognizes hospitals and birthing centers that offer an optimal level of care for infant feeding and mother-baby bonding.
Childbirth experience at a baby-friendly hospital
One goal we have for all of our mothers and newborns is to establish a strong mother-baby bond from birth. We facilitate this bonding experience through:
Breastfeeding support and assistance—Breast milk provides natural antibodies that help your child fight off infection and disease. It is also easily digestible for babies and aids in mother-baby bonding. Our board-certified lactation consultants are available to help you begin breastfeeding, answer your questions and support you throughout the breastfeeding process. Breastfeeding may also lower your future risk for breast cancer, ovarian cancer and osteoporosis.
Rooming-in—When possible, we encourage you and your child to stay in the same hospital room together, this is called rooming-in. Studies show that a mother sleeps better and longer after delivery if their child is in the same room. Our care team is available to help teach you soothing techniques, so you and your baby can rest comfortably.
Skin-to-skin contact—As soon as your child is born, they will be placed on your bare chest/stomach for at least 60 minutes of skin-to-skin contact. During this time, you will also be encouraged to initiate breastfeeding, if that is your chosen feeding method. During the skin-to-skin time, our team will asses your baby's condition and perform routine procedures. You may continue to practice skin-to-skin contact throughout your hospital stay.
Benefits of skin-to-skin contact
We recommend skin-to-skin contact with your baby immediately following birth for a variety of reasons. It can help your baby:
Bond with you
Cry less and reduce signs of stress
Have a positive first feeding
Lower their risk for high blood glucose levels
Regulate their body temperature
Return to a normal heart rate after birth
Transition to life outside of the womb
In addition, mothers who practice skin-to-skin contact experience:
Less anxiety
More self-confidence in their parenting abilities
More uterine contractions, which help the uterus return to its normal size
Increased bonding with their baby by experiencing the smell and feel of their newborn
High-risk pregnancy services
Our women's services include high-risk pregnancy care with a team of maternal-fetal medicine specialists. These specialists have extensive training in caring for expectant mothers who are at a higher risk for complications during pregnancy and/or childbirth. This may include genetic anomalies, multiples (twins, triplets, etc.) and serious health conditions for the mother or baby.
Our hospital has dedicated rooms for patients who may require close monitoring in the hospital prior to their baby's birth. If you think your pregnancy may be high risk, talk with your obstetrician about your questions and concerns.
Neonatal intensive care
Sometimes babies require extra attention following birth. We have a Level III Neonatal Intensive Care Unit (NICU) inside our hospital, so your child has access to the dedicated care they need.
Our NICU is the only Level III NICU in Southeast Georgia. Inside the NICU, your child's care team may include highly trained physicians, nurses and other medical specialists who provide dedicated care for newborns.
Labor and delivery hospital amenities
When you arrive at our hospital to deliver your baby, you will be taken to your own private, spacious room. This is where you will go through labor, delivery and initial recovery. Our birthing suites are designed with patient comfort and safety in mind.
When your baby is ready to be delivered, our suites can easily be transformed into a high-tech delivery suite. Our labor and delivery rooms offer:
Birthing balls
Comfortable, adjustable beds that allow you to labor in different positions
Complimentary Wi-Fi
Sleeper chair for your support person
Special lighting to enhance relaxation
If an emergency situation occurs during delivery, you and your support person will be escorted down the hall to one of our operating rooms.
Mother-baby rooms
Several hours after delivery, you will be moved to a private room in our mother-baby area. This is where you will spend the remainder of your hospital stay. Our mother-baby unit is staffed by specially trained nurses that care for you and your baby.
Your baby will remain in the room with you to encourage bonding and establish breastfeeding practices. Rooming-in offers several advantages for mother and baby, including:
Earlier production of breast milk
Learning your baby's feeding cues
Longer periods of sound sleep for you and your baby
We practice daily quiet hours from 2:00pm to 4:00pm. During this time, lights in the hallways will be dimmed and conversation at the nurse's station is kept to a minimum. Patients have the option to limit visits from family and friends during quiet hours.
Childbirth preparation and parenting classes
Our hospital hosts a variety of classes to help expectant parents prepare for labor and delivery and life after your child is born. Our classes include:
Prepared Childbirth—This class has two sessions to help you understand the stages of labor, the birth process, procedures and relaxation techniques, as well as other coping skills and interventions.
Baby Basics—Infants don't come with instructions, but this class equips expectant and new parents with knowledge about infant development and the guidance needed to care for their infant. Classes include tips on feeding, bathing, illness prevention, safety and parenting skills.
Introduction to Breastfeeding—Breastfeeding is natural, but it doesn't always come naturally. During this class, moms are prepared for what to expect in the first few days of breastfeeding. We discuss normal newborn behavior, how the body responds to breastfeeding, strategies for success and answers to common problems. We also cover the basics of positioning, latch and milk supply. Partners are encouraged to attend.
Tour our labor and delivery suites
It's normal for expectant parents to want to view where they will be having their child prior to delivery day. Patients can take an online, virtual tour of our maternity suites.
Breastfeeding support
We have multiple board-certified lactation consultants on staff who are available to provide education, advice and helpful tips on continuing to breastfeed and returning to work. Our lactation services include:
Access to telephone counseling for commonly asked questions and any breastfeeding concerns
Breastfeeding education for expectant mothers and new moms
Inpatient breastfeeding assistance at the bedside, educational information and help for moms with babies in the NICU
One-on-one office visits with a lactation consultant
To contact our 24-hour breastfeeding counseling line, please call (912) 350-8164.
When to call for breastfeeding help
There are a number of reasons a new mother may be concerned about breastfeeding her child. We are here to help new mothers through their breastfeeding journey and advise parents on concerns such as:
If they are not experiencing any breast fullness or heaviness by the fourth day after delivery
If their baby is having fewer than three loose, yellow stools per 24 hours by the fourth day of life
If their baby is having fewer than four soaked diapers beginning on the fourth day of life
If their baby is not eating at least eight times in a 24-hour period
If their baby seems hungry and won't latch
What to pack for your hospital stay
For expecting mothers planning their delivery at our hospital, we suggest bringing:
Comfortable clothes for your stay (birthing and going home)
Electronic devices, including cellphone, chargers, cameras and wireless speakers
Favorite pajamas, nightgown and/or robe
Important documents, including birth plan, identification and insurance card
Nursing supplies, including nursing bra, pads, breast pump and pillow
Personal items, such as glasses, contacts and hair ties
Slippers or other comfortable shoes
Toiletries and makeup, if desired
You may also want to bring a few items for your new baby, such as:
Blankets for swaddling and burping (at least two)
Car seat (required by law)
Clothing for first photos and going home
Newborn hearing screening
Newborns at our hospital will receive a newborn hearing screening as part of their routine care. We follow the universal infant hearing screening program, which means the screening is simple and painless. Most newborns sleep through the screening, and it lasts about 10 minutes.
Labor and delivery locations
Retrieving location data...