If you are a physician or hospital requesting a transfer, contact our Transfer Center
The Parker's Emergency & Trauma Center at Memorial Health University Medical Center is the region's largest and busiest emergency department. We have the only Level 1 trauma center in the region.
In 2016, we completed a two-year, $15-million expansion and renovation of our emergency services to better serve our patients, their families, and friends. Today, our emergency department is nearly double its previous size. Additional features include:
Highly trained emergency physicians, trauma surgeons, specialists, nurses, and other providers available around the clock to provide immediate emergency care.
74 private treatment rooms to give our patients and their families more privacy.
A larger, more comfortable waiting area.
Three additional rooms in our Level 1 trauma center, the only facility in the region equipped to provide the highest level of emergency care.
Access to electronic medical records through Memorial MyChart.
Level 1 Trauma Center
Our trauma center is one of only five Level 1 trauma centers in the entire state of Georgia. Being designated Level 1 means that we provide the highest level of emergency care as verified by state agencies. Our trauma center serves 28 counties in Georgia and South Carolina. According to the American Trauma Society, elements of a Level 1 trauma center include:
24-hour in-house coverage by general surgeons and prompt availability of care in specialties such as orthopaedic surgery, neurosurgery, anesthesiology, emergency medicine, radiology, internal medicine, plastic surgery, oral and maxillofacial, pediatric, and critical care.
Referral resource for communities in nearby regions.
Provides leadership in prevention and public education to surrounding communities.
Provides continuing education of the trauma team members.
Incorporates a comprehensive quality assessment program.
Operates an organized teaching and research effort to help direct new innovations in trauma care.
Program for substance abuse screening and patient intervention.
Meets minimum requirement for annual volume of severely injured patients.
Recognition
---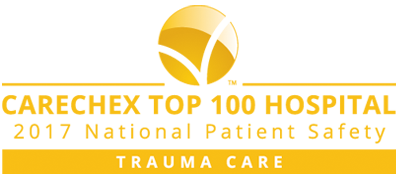 In 2017, our trauma care was ranked in the Top 100 in the Nation for Patient Safety by CareChex® -- an information service of Quantros, Inc. To learn more, visit CareChex.